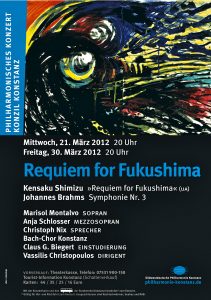 Work in progress
REQUIEM FOR FUKUSHIMA
for Soprano, Mezzo Soprano, Chorus, and Orchestra (2012)
Three years ago, the unforgettable day of March 11th 2011, the Fukushima disaster changed all of our lives. A series of powerful earthquakes, large tsunami waves and subsequent nuclear accidents changed our world.
For the Japanese, this catastrophe was more than just a natural disaster. Writers such as Kenzaburo Oe and Haruki Murakami have tried to put Fukushima in a historical perspective, to remind the Japanese of their responsibility towards the victims of Hiroshima and Nagasaki, and to show the risks and dangers of nuclear energy.
Kensaku Shimizu, a Japanese composer, wrote a large orchestral work with chorus and soloists "the Requiem for Fukushima."
The work was premiered in Konstanz, a historical city near the Swiss-German border, on March 21st  2012, under the button of Vassilis Christopoulos.  Südwestdeutsche Philharmonie (Southwest German Philharmonic Orchestra), comprised of 65 musicians from all over the world, performed this work at the Konstanz Konzil, some 600 year-old historical building after the famous papal election in 1414.
Kensaku Shimizu's work was tremendously well received in Konstanz. People were deeply moved, and appreciated musicians' efforts to perform this complex, demanding piece.
Some time before the disaster, I was commissioned to compose an orchestral work. When it happened, the initial impact was so great that I just could not rationally comprehend what happened in Fukushima and its environs. But, It did not take much time to finalize the theme. I was somehow given all it takes to complete this work. I realized that I was destined to compose it.
This music represents my soul journey.
It is my sincere hope that I share it with everyone, who listens to this work, and this disaster shall not be forgotten.
-Kensaku Shimizu-
World premiere: 21 March 2012 Konzil Konstanz, Germany
(Also performed on 30 March 2012 Konzil Konstanz, Germany)
Conductor: Vassilis Christopoulos
Soprano: Marisol Montalvo
Mezzo Soprano: Christina Daletska
Naletor: Christoph Nix
Chorus: Bach-Chor Konstanz
Director of Chorus: Claus G. Bigert
Südwestdeutsche Philharmonie Konstanz