KENSAKU  SHIMIZU –Composer-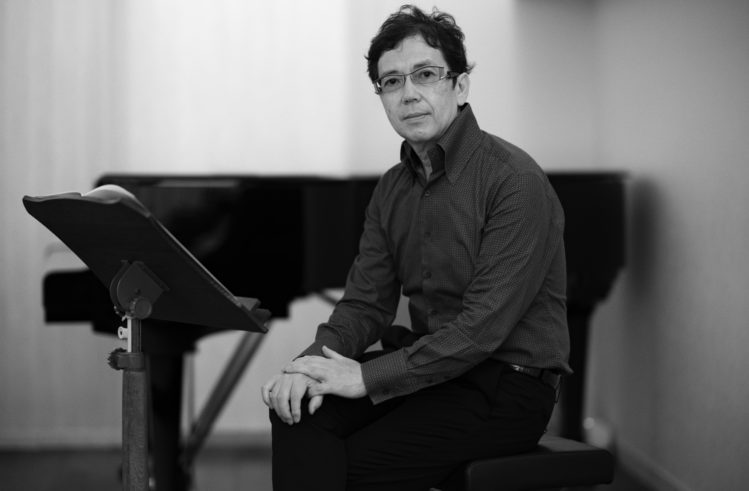 ©Seiichi Uozumi
The music of Kensaku Shimizu must represent his unique exploration into history, societies and landscapes both in the Occidental and Oriental worlds. 
His fame spread out globally through "The Requiem for Fukushima" that was a commissioned work by the Southwest German Philharmonic Orchestra after the catastrophe in the Tohoku region, Japan, in 2011. This piece was world-premièred in Konstanz, Germany, in March 2012 to convey a great impression to the audience.
"In this piece of work, Shimizu seems to illustrate 'societies' somewhat tied by similar fearful events with his imminent way of music. Imagining them and listening to the piece carefully, we can see each person's fate and grief…"                                                                     – Elisabeth Schwind, Südkurier-
Kensaku is no doubt one of the most important composers of our time, with his highly acclaimed works increasingly gaining prestigious recognition in the United States and European countries as well as in Japan.
One of recent works of Kensaku, "In to the deep" for cello and piano, a commissioned work by the Bremen Music Festival and Leonard Elschenbroich, was world-premiered in the Bremen Music Festival in Aug. 2015. This world-premiere was broadcasted by Deutschlandfunk on 25th Jan. 2016. Then performed in many venues in the world in 2016 such as Breitachklamm, Germany, on 6th Jun., the Ryedale Festival, Potter Hill, UK, in Jul., Chichester Council House, Chichester, UK on 27th Oct., Holy Trinity Church, Claygate, UK, on 29th Oct., Tongyeong Concert Hall, South Korea, on 7th Oct., and the Daishi Hall, Japan, on 10th Oct.
His latest piano solo piece, "Izumi", was performed for the first time in the Passau European Week Festival in Germany in 2013. At the première stage, Izumi won great acclaim from the audience, that is rather extraordinarily to a contemporary piece of music. The Bayerischer Rundfunk (Bavarian Broadcasting, BR) hence instantly decided to broadcast the piece, and Izumi got on-air only a month later. In 2015, Izumi was played at the Klavier-Festival Ruhr in Bottrop, Germany, on 7th May, the summer music festival at Gauting Bosco, Germany, on 25th June, and a piano recital by Mona-Asuka Ott in Ebersberg, Germany, on 5th November.
His recent remarkable achievements include: a piece of work for the pipe organ performed at the Suntory Hall for its 10th anniversary concert; an exhibition of his works held at the Bandai International Music Festival; orchestral arrangements of the famous three progressive-rock pieces, "21st Century Schizoid Man" by King Crimson, "Close to the Edge" by Yes and "The Great Gigs in the Sky" by Pink Floyd. These progressive rock pieces were performed in a concert for TV Asahi's 55th Anniversary in February 2014 to absolutely fascinate the audience.
Kensaku has written many a piece for the flute and orchestras such as "Disparate Space-Time II", sheet music of which was published by ONGAKU NO TOMO SHA Corp. A compact disc titled "Umi" (the sea) was released in 2010, which includes pieces written for the flute, alto flute and piccolo with piano accompaniment.
Kensaku is a serial recipient of many composition awards and funds. In 1990, he unanimously won the first prize in the 7th International WieniawskiCompetition for Composers in Poland, with no one in the second place.
He has also been delegated many compositional commissions. The clients include; Doriot Dwyer, the former principal flutist at the Boston Symphony Orchestra; Japan Organ Society; Powell Flutes Japan; and Japan Association for the Mathematical Sciences. In addiotion to Izumi and the Requiem for Fukushima, many of his works have so far been performed by world's leading players such as Jacque Zoon, the former principal flutist at the Boston Symphony; Kazuo Tokito, the former principal piccolo player at the Philadelphia Orchestra. In 2009, his orchestral work, "Transmutation", was world-premièred in Kiev, Ukraine, by the National Symphony Orchestra of Kiev.
Though Kensaku is always busy with composition, he accepted invitations to the Festival de Musiques Nouvelles in Toulouse, France, the Qiqihar University in China, and most recently, the College of New Jersey for the Composer's Forum in the United States. In 2016, Kensaku sat as an international judge at the ISCM World Music Days 2016 Tongyeong (South Korea).
Born in Japan, Kensaku started his career as a composer in the United States. He is a graduate of New England Conservatory of Music in Boston, where he earned Bachelor's degree in Music, specialized in theory, and Master's degree in Music,with distinction in composition. In 1998, he was selected to participate in the "Stage Program" to study computer music and music technology at IRCAM in Paris, where he also gave lectures as a visiting scholar. He then completed his doctorate program in composition at Harvard University with a full scholarship, stipend and the opportunity to serve as teaching fellow.He studied composition and theory with Robert Cogan, Pozzi Escot, Donald Martino, Earl Kim, Bernard Rands and Joji Yuasa. 
Currently, Kensaku is a Professor at Niigata University and a visiting Professor at Qiqihar University in China.
His recent works transcription of "Japanese Songs & World Songs" includes "Sakura-sakura" Fantasy, Fantasy on Londonderry Air, premièred at Dolce on 25th Dec. 2016, in Tokyo, are able to download through the Dolce Classic Channel from Jan. 2017, in the format of either mp3, CD quality or 24 bit 192 khz.
A new commissioned work by a renowned flutist Ryu Noguchi who premièred pieces of Toru Takemitsu and Yoshio Hachimura, "Rest, while you can", for piccolo, two flutes, alto flute and piano, is premièred at Tokyo Opera City on 19th May 2017.
Kensaku' new work, "Kyakurai for string orchestra", was premiered on 21st January 2019 at Berlin Philharmonie chamber music hall by Kammersymphonie Berlin under the button of Jürgen Bruns.
His new piece for Flute and Alto flute will be premiered on 21st March 2020 at the 2nd International Low Flutes Festival in Japan.
-December 2019-